Course Prospectus ~ Your Vision through Movement, Memory and Light
"Seeing is much more than visual activity, when we take light into our brain, it impacts our body and how and what we see"
Course Description
Your Vision Through Movement, Memory and Light looks at how light, our memory imprints, and movement affect how and what we see. This programme gives a practical way for seeing relationships and life with new eyes. Doing the Repatterning processes change our resonance with stress, conflicts, memories, and pain. And doing the energizing options increases our ability through movement, laughter, and pleasure endorphins to take in more light, joy, and aliveness – all of which transform our vision.
The processes in Your Vision Through Movement, Memory and Light are pivotal aspects of Resonance Repatterning® for shifting our negative resonance and transforming how we see ourselves, others, and life.
Overview
Seeing is much more than visual acuity. When we take in light to our brain (determined in large part through the filter of our memories and our movements), it impacts our posture, breathing, self-image, the kinds of thoughts and feelings we have, our level of pain, our capacity for closeness, and how and what we see.
Our physical vision responds to our thoughts and feelings. "He went blind with rage" is not just a saying. The thoughts and feelings we resonate with play a major role in how we see—whether physically or how we view ourselves and our world.
Key Outcomes
A student who completes this course will:
Learn how to do seven (7) new repatternings related to vision and light regarding:

Stress
Letting in more light
Our inner light
Conflict
Visual acuity
Pain
Laughter

Learn how to do two (2) repatternings related to vision and memory
Learn how to do one (1) repatterning related to vision and movement.
Learn almost sixty vision energizing options.
Learn thirteen (13) Positive actions related to vision.
Prerequisites
and Corequisites
Complete all of the Basic Series Programme: The Muscle Checking Course, Fundamentals of Resonance Repatterning®, Transforming Primary Patterns, Transforming Unconscious Patterns, Transforming Chakra Patterns, and Transforming Five Element and Meridian programmes.
Textbooks:
The Process Guide

 

by Chloe Faith Wordsworth (purchase on:

 

Amazon

)

Your Vision Through Movement, Memory and Light

 

by Chloe Faith Wordsworth (purchase on:

 

Amazon

)

Spiral Up: 127 Energizing Options to Be Your Best Right Now

 

by Chloe Faith Wordsworth (purchase on: Amazon)
Tools: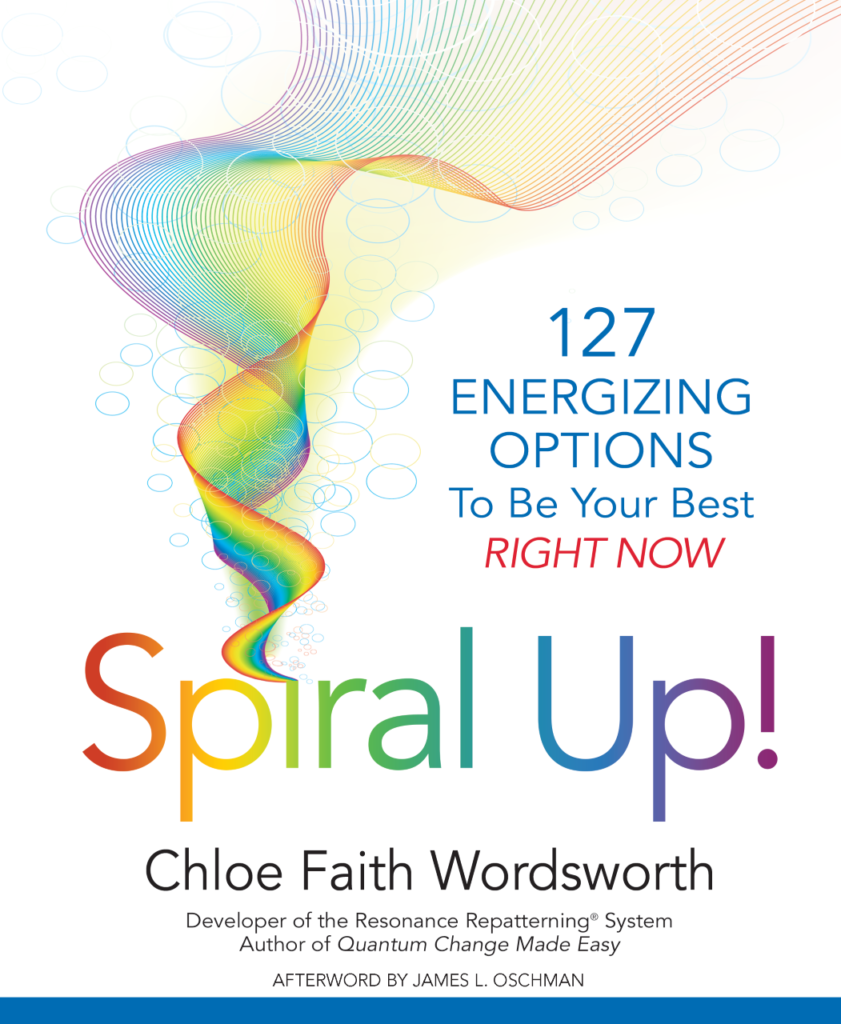 Course Requirements
Attend all course dates full-time to enable the institute to verify your attendance and provide the necessary approvals/accreditations for programmes.
If you are sick or unable to attend due to extreme circumstances, you can catch up on one programme on the video-based learning program or recording. Otherwise, you will need to retake the programme.
Tips
Be fully present throughout the course.
Listen to the facilitator/instructor.
Listen to one another.
Ask questions when you don't understand the content. Follow instructions.
Assume responsibility for your own learning
Behave constructively (e.g., not interrupt, dominate, hold side conversations, complain, or demotivate other participants).
Attend the provided mentoring sessions separate from the programme time, which are arranged with your mentor.
Complete the Skills Development assignments in each book (ideally, as you go through the programme). If you decide to move through the RR Pathway, this is required.
Record the details of all self-sessions and practice sessions on the RR
Record Sheet. Include your intentions and reflections.
Read the entire book by the end of the course.
Complete the suggested reading ahead of class as recommended by the instructor.
Read and/or practice the repatterning/s to be done in the next class on yourself to gain familiarity.
Bring a sticky note pad to mark pages in your book for quick reference.
Consider using two colored highlighters to highlight the parts you say to the client and the parts the client will repeat.
Practice looking at the camera rather than the screen when practicing with a classmate.
Consider using the reading guide provided as a means to understand key concepts.
Have plenty of water available to drink.
Evaluation
Much of this course allows the student to engage with the content and be fully immersed in the process. The instructor and mentors are available to observe and provide encouraging feedback to strengthen the confidence of all students. No formal evaluation is made in this course.
Course Credit or Applications Once Completing the Course
Upon completing this course, the student will earn 21 hours of credit or 27 hours of credit if participating with a mentor and may practice Resonance Repatterning® on themselves, family members, and friends. Until you are a Novice Practitioner (after completing the next course, Primary Patterns), you are a student and cannot practice with or charge clients..
Participants with Disabilities
All students with disabilities are guaranteed a learning environment that reasonably accommodates their disabilities. Students, who believe they have a disability requiring an accommodation, should inform the instructor through the link on the course home page.
Technology Access
This course requires web access and an established e-mail account. The Adobe Acrobat Reader is necessary to view PDF files/documents; it may be downloaded free at Adobe Acrobat Reader. Online programmes will be conducted on Zoom, and the access information will be provided before the first class.
Course Evaluation
Student input is welcome for improving this course, and making suggestions by e-mail is helpful. Our goal in this course is to facilitate the achievement of all instructional objectives by all students. At the end of the semester, students can formally assess the programme. We want to make distance learning as effective as we can. We may also ask some other questions concerning a student's experience in distance learning to help us improve our programme. We appreciate students letting us know how we can improve our services for them and other distance learners.